I am a hair oiling maniac and I admit it. Until recently, I have been using natural oils that restored my hair's condition. My favourites are: argan oil, almond oil, jojoba oil and, of course, castor oil.
Some time ago, I decided to find a ready-made hair oil that would suit my needs. I figured that this way I would reduce the costs and time. How is that? It is simple. The price of one product that is a blend of natural oils is lower than purchasing several oils, often expensive ones. What is more, we must devote a lot of time to search for the best ones. Also, it is very time-consuming to prepare the bland yourself, each time you want to use it. In the past I like that, unfortunately, now I have no time for that and prefer to have a read-made solution at hand.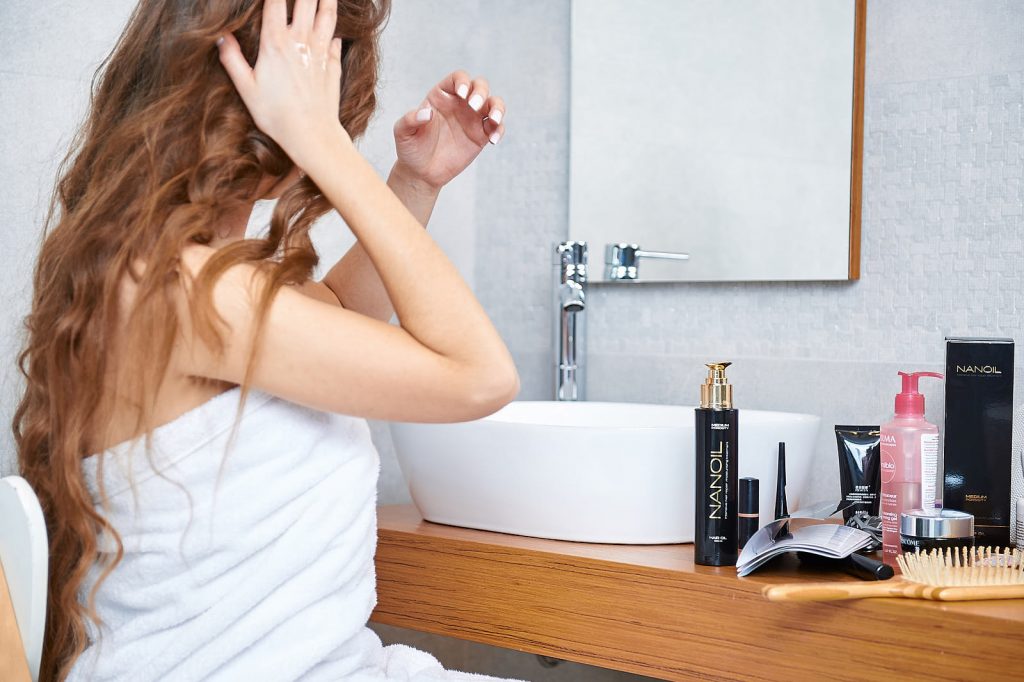 There was only one problem: where to find a hair product with natural components?
I have visited many drugstores and pharmacies. I have asked my friends and family members. Finally, browsing through many online forums I came across Nanoil hair oil series. I have carefully read all the reviews and the official website. And this is what I have discovered.
Nanoil – oils for hair of three different types of porosity
Made to work inside hair and scalp.
Well-balanced components.
Natural, silicone and paraben free, rich in valuable substances.
You can choose from three hair oils. Each of which matches particular type of porosity, therefore it is recommended to determine your own porosity prior to the purchase. You can do it by doing a simple test with the use of a glass of water (unfortunately, in my case, float test did not work), by having a test done by the trichologist (a doctor that specialises in hair treatment) or by simply observing your hair. I recommend the last method….
Now, I would like to present three types of Nanoil hair oils:
I. Nanoil for low porosity hair is made for straight, difficult to style, lacking volume, unsusceptible to curling, drying slowly and easy to weigh down hair. It that is your type of hair then this oil should work for you. The product contains 9 natural oils: cedar, coocnut, argan, castor, shea, maracuja, babassu, monoi and cupuacu. Additionally, you get a set of vitamins and UV filter.
II. Nanoil for medium porosity hair is a solution for normal hair, with the tendency to frizz and static, curly, dull, weakened, falling out, dry or poorly nourished. It this is the description of your hair type, you must definitely try out this version of Nanoil. It comprises six natural oils: macadamia, argan, marula, jojoba, maracuja and coconut. Their effects are enhanced by a set of vitamins, silk and UV filter.
III. Nanoil for high porosity hair is the third option. This one is designed for extremely damaged hair, dry, dull, falling out excessively, spit, brittle and frizzy. If you must deal with such problems on daily basis then you must act quickly. DO not hesitate, reach for this type of Nanoil hair oil. It consists of six natural oils: almond, evening primrose, avocado, maracuja and cotton seed. Also, it is enriched with keratin, panthenol, silk, lanolin, a set of vitamins and UV filter.
Which one did I pick for myself?
My hair is of medium porosity so I purchased Nanoil with jojoba and marula. This composition is ideal for me. The product is quickly absorbed. One dose is enough to cover my entire hair (medium length). There is some left to do a quick scalp massage and rub it into hair roots.
Components
Excellent. I found my two favourite oils: argan and jojoba. All ingredients are natural and fulfil my needs. Additionally, I haven't seen any preservatives, alcohols, parabens, silicones etc. in any of the three options. Without a doubt, you can say that Nanoil for medium porosity hair is pure and everyone can use it.
Effects
After the first use my hair became easier to style and looked much better. It was visibly smoother, softer. I had the impression as if it was covered with a silky coating. Even though I always had troubles to comb my hair, this time there were no tangles and the brush glided smoothly. After blow-drying, it gained the perfect volume.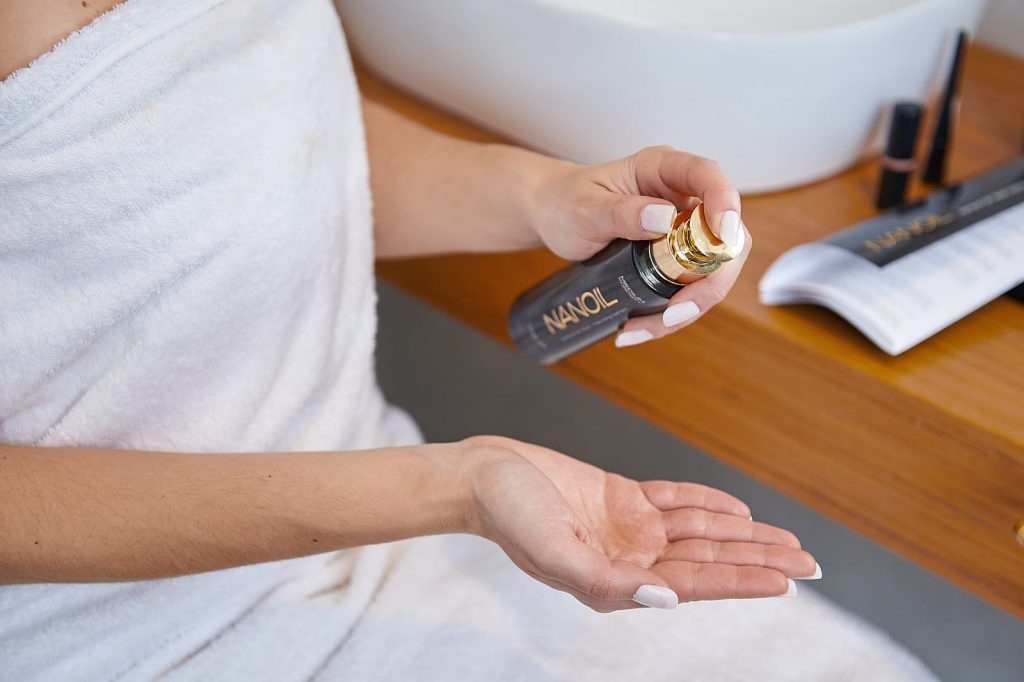 First week of use – I started noticing that natural curls can look really nice. Nanoil enhanced that feature of my hair. Also, I have forgotten about frizz and static. I am really getting fond of my wavy hair. Moreover, there is less strands of hair left on my comb or brush. It also takes less time for my hair to air-dry, hence I reduced the use of a blow-dryer. I no longer use other cosmetics, such as styling primers or finishers.
Second week of use – my hair gained nice colour, stopped falling out and the density increased. Ingredients responsible for boosting hair growth did their job – I have a lot of the so-called 'baby hair'. My strands are clearly stronger and more resilient. In consequence, hair is properly moisturised and deeply regenerated.
Third week of use – ongoing. Each day, my hair is becoming more luminous, better-looking, and easier to style. I no longer spend hours on making hairdos. All I need to do is to apply Nanoil before shampoo and sometimes before blow-drying to achieve beautiful waves. It has more volume, it is easier to comb. If I tie a ponytail it seems that I have a lot more hair than before.
Packaging
Visually, Nanoil for medium porosity hair looks no different from the other two versions. As for me, it is rather inaccurate solution. The brand could have thought to distinguish at least the wooden corks in three shades. Nevertheless, the glass bottle is very solidly constructed. Dark glass is intended to protect the natural ingredients from the damaging effects of the sun radiation, but the truth is that it is also a successful design. As for me, there is no more elegant hair oil available on the market.