Are you searching for a good serum that will revive your skin and make it look lovely again quickly? The one that you could use no matter the skin type, age, season of the year or time of the day? I love products that don't entail many "restrictions" ("you shouldn't pair it with…", "use it only in the PM", "be careful because…"). That is why I like Nanoil Vitamin C Face Serum so much. Do you know this brand? If not, it's time to catch up because it has perfect face serums and other amazing products to offer. Today I post an honest review of a skin-care jewel: Nanoil Vitamin C Face Serum.
Vitamin C. Why everybody raves about it?!
Why has vitamin C become the "wanted" cosmetic ingredient? We've known it forever and used it to boost immunity so can't we merely supplement it?
Nope, sorry. Supplementation does matter but this form of vitamin C does its job inside the body caring for the systems and organs. If you want to experience its skin benefits, you need the right beauty product which features the proper form of vitamin C. Read on to see what I mean.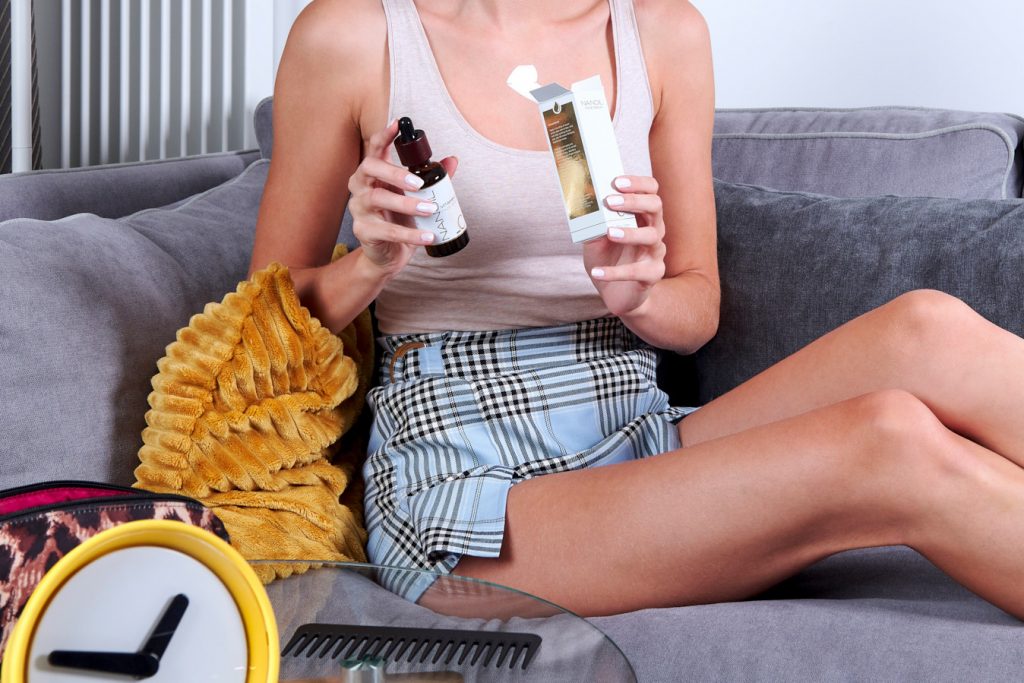 What's the effect of vitamin C on the skin?
Let's answer this key question. What's the point of using it? How does vitamin C benefit your skin? The effect is better than you expect!
Vitamin C is one of the three vitamins of youth. So, it obviously rejuvenates and delays aging. It is more effective than plenty of other substances. It is also perfect to improve the appearance of the skin and its condition – thanks to vitamin C, you can forget about dull, lifeless skin, puffy eyes after a sleepless night, under-eye dark circles or other blemishes. Your skin will be flawless, really. Radiant, fresh, rested, smooth and youthful.
Vitamin C and its forms – not each one of them works!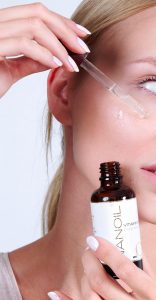 It's a sad fact: not all forms of vit. C are equally effective. Cosmetic manufacturers like to cheat us putting vitamin C that is oxidized before getting inside the skin. Ascorbic acid is the best pure form of vitamin C but it is oxidized very fast. Cosmetologists made some derivatives but they give poor results. Thankfully, they came up with 3-0 ethyl ascorbic acid which is the bull's eye! This is the best form ever made: 100% pure vitamin C. It gives an amazing effect and you can see that after the first use of the Nanoil Serum. So, how does it improve the skin exactly?
Nanoil Vitamin C Face Serum: effect on my skin
I don't want to beat around the bush – this is a remarkable serum. I've never used anything that would be even slightly similar to this jewel. It brilliantly revitalizes and repairs the skin, instantly improving the looks – it's like photoshop in a bottle! Once you smooth the serum over the face it really makes you look better. The product "wipes off" the tiredness, reduces sallow and dull color, illuminates and boosts energy. Over time (my skin needed a few weeks) the effect becomes permanent – the skin gets the even color back, the wrinkles are less noticeable, there are no more pigmentation marks and imperfections. The face is perfectly plump, relaxed and full of vitality. Lovely!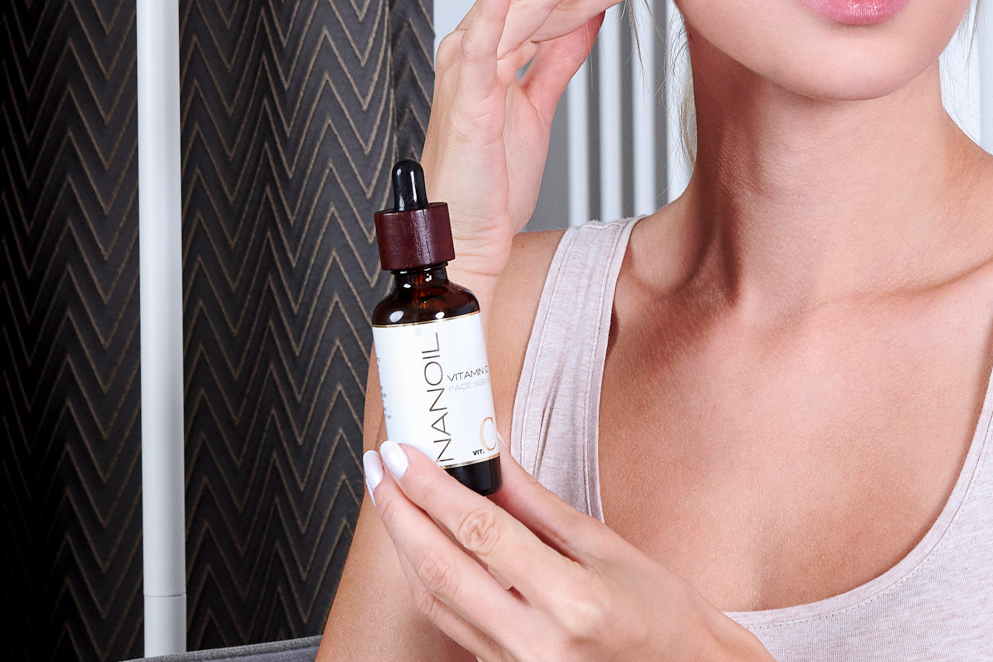 How to use the Nanoil Vitamin C Face Serum?
I use it in the morning but feel free to apply it twice a day if you like. You can also use it as a nighttime treatment. I love it that the serum is perfect to wear under make-up. I really recommend it – it's ideal for any type of skin, even if you fight with pimples and other imperfections. A real skin doctor in a bottle! Give it a go and let me know if you love the Nanoil Serum as much as I do 🙂